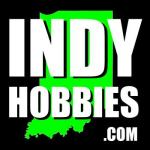 "Today's high tech 3D computer rendering software is amazing, but it can't match the impact of a hand-built scale model."


I worked full-time for an architectural model shop for three years in Knoxville, Tennessee.  Henderson & Associates, owned by Neal Henderson, was a wonderful place to work and learn.  Neal taught me a lot, and I even brought some new technologies to him that he had never used before (like CA super glue!).

The photos you see above are some of the projects that I built while at Henderson & Associates.  Being paid to build models was an unbelievable opportunity for me. The downside was that when I got home at night, the last thing I wanted to do was grab an X-acto knife and start building models!

I was able to use the firm's equipment after hours for many of my own hobby projects. That was a treat.  And, Neal was a model aviation nut like me, so he had a real appreciation for my personal hobby projects when I brought them in.  

If you would like me to buiild an architectural model for you, I would consider it.  However, with family and other commitments, finding the 
time
 would be hard these days.  I would instead suggest that you contact 
Midwest Model Makers
 in Indianapolis. They are a premiere model building company and they work nationwide.  Check out their website.  Its amazing what they have done!