What a cool day!  Thank you to Stingray Systems for your hospitality.  StingRay Systems is an official sponsor of

John Force Racing!


Stingray Systems offered me a tour of
John Force Racing
along with the opportunity to go to
Lucas Oil Raceway
(Indianapolis Raceway Park) in Brownsburg, Indiana.  Of course, I said, "yes!" 
Our tour began with walking into the lobby of a first class business.  We were greeted and made to feel welcome right away.  I expected to see current drag racing cars and associated parts, but what I didn't expect was the on-site manufacturing and graphics work that is all being done in-house.  Wow!  The photos will help to show the exceptional level of detail and attention they have for all things drag racing.  They obviously have learned that the way to win, is to control the process.

After the tour of the "shop" we were taken out to the drag strip where the teams were doing test runs of both their Funny Cars and their Top Fuel Dragster.  John Force and Courtney Force both spent a great deal of time talking to us about what they do, and how they do it.  Many questions.  They weren't just being polite, they were truly engaged in the moment and both have a great sense of humor. 

Enjoy the pictures.  It was a great day for me personally and one I will never forget.  I've always been a fan of drag racing, more than any other sport.  And, I've always been a fan of John Force.  Now that John Force Racing has gotten involved with
Traxxas
to license their drag racing machines so that Traxxas can make incrediible scale versions of their machines, well, its an R/C car guy's dream come true!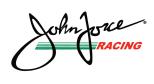 During the tour, they invited us to come up to the starting line and experience up close and personal what a funny car can do!  I shot this video.  Yea, the two guys who kept standing in front of the car blocking my view annoyed me too.  :)